This opportunity listing has expired and may no longer be relevant!
Residency

The Factory on Willow Funded Artist in Residence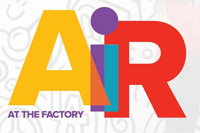 Opportunity Description
International Deadline: Ongoing – This is an opportunity for two emerging artists of any medium to seek inspiration and dive deeper into their current projects, themes, and practice over a three month seasonal tenure.
The two Artists in Residence will benefit from their own furnished living and studio space right on site at the Factory on Willow in Manchester, NH.
The Factory on Willow mixed-use space was designed with creators, innovators and entrepreneurs in mind. You'll see this shine through in the architectural features of the space, its plentiful resources, amenities, and unique community programming.
We are proud to embody the spirit of collaboration and creativity by allowing emerging artists from all over the country to embrace Manchester as a starting point to their careers.
DEADLINES
The AIR program Runs Three Times a Year:
Session 1: March, April & May
Session 2: June, July & August
Session 3: September, October & November
LOCATION
Manchester (founded in 1751), also known to locals as the "Queen City," is New Hampshire's largest thriving urban center that has experienced a renaissance of urban development and population growth over the last decade. We find our visitors enthusiastically exploring our downtown drag filled with rich industrial history, and growing art scene that includes the MHT Art Walk, The Currier Museum of Art, Studio 550, and The Palace & Rex Theaters.
ELIGIBILITY
Photographers, painters, 3D artists, designers, animators and film makers. If you currently are a U.S. Citizen or hold a Permanent Resident status, or any other work visa already in place that is not expiring within 6 months, and 21 years of age, you may apply!
For the safety and security of our artists, their families, and our community, we cannot accept children in the residencies for artists at this time.
BENEFITS
We'll provide you with everything necessary to nurture you and your work. You'll find endless inspiration in the beautiful state of New Hampshire and its largest city, Manchester—it's full of culture, history, nature and community! Enjoy a collaborative and supportive environment.
Residency benefits include:
Individualized attention with two artists per session for a three month seasonal residency
Travel stipend
Additional weekly stipend for food & art supplies
Fully covered living/studio space rent and utilities
Access to all Factory amenities, including fitness center, green space, parking, and more
Weekly meetups and activities with other residents and our on-site facilitator
Regular open-studio events, artist talks, and teaching opportunities
SELECTIONS
Expectations for Selected Applicants:
The program will culminate in a capstone celebration of your process, work and experience, with either a final public showing/ installation on-site at The Factory, or a public experiential art installation in downtown Manchester; one piece is required to be left behind as a part of The Factory's AiR Collection.
Participation in a final exhibit, artist talks and studio visits.
There is an opportunity to collaborate with community partners like NH Dance Collective for your final exhibition
You'll also have opportunities to participate in in-person portfolio reviews, artist talks, and classes in partnership with our local museums and art college.
APPLY ONLINE – No Fee
The applications are reviewed by an art committee whose efforts ensure that a broad range of artistic disciplines, styles, and national origins are represented. The selection process aims to integrate artists in a spirit of openness and curiosity about creativity in its diverse forms and contexts.
---
About:
A 12-week artist residency program designed to bring emerging artists from around the world to Manchester, NH. Experience a unique environment for creative exchange and collaboration amongst a community of creators, innovators and entrepreneurs.
252 Willow Street
Manchester, NH 03103
Apply for this Opportunity