Art Calls

Field Projects Fall Open Call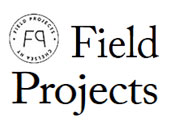 Opportunity Description
International Deadline: October 9, 2021 – Field Projects is pleased to announce our Fall Open Call! Emerging and mid-career artists are invited to submit their work for consideration in our group exhibition put together by our Guest Curator.
All submissions will be considered for the Exhibition and the accompanying Online Exhibition. The theme of the show will come from the work submitted.
Simultaneously, Field Projects Panel will be considering the submissions for:
The exhibition 2021 (October 21 – November 20, 2021). The theme of the show will come from the work submitted.
The accompanying Online Show
Solo Shows at Field Projects
Group Shows at Field Projects
Art Fairs
Outside Exhibitions
Featured in Field Magazine
Our Studio Visit program for NYC artists!
Field Projects is an NYC-based project space located in the heart of Chelsea's gallery district. As an artist run space, we are committed to opening the field of exhibition opportunities to other working artists. Whether you have submitted to Field Projects before or it's your first time, we would love to see your work!
ELIGIBILITY & TERMS
Artists working in all medium are welcome to apply.
All artwork submitted must be ready to hang or install. Works on paper must be framed. Photographs must be framed.
Artist living outside NYC are also welcome to apply, however you will be responsible for artwork shipping costs.
Artists working in new media, film, or video – you may be required to use your own equipment for exhibitions.
Artists may submit up to 5 works.
SUBMISSION FEE : $35
APPLY ONLINE
Artists may submit up to 5 works. Selected artists will be notified by April 5th, 2021.
SALES
All artwork in the exhibition will be for sale, with artists receiving 50% of final sale.
---
About:
Field Projects is an artist run project space and online venue dedicated to emerging and mid-career artists. Centered on short-term curatorial projects, Field Projects presents monthly exhibitions at their Chelsea location in addition to pop-up exhibitions throughout New York City.
Field Projects
526 W 26th Street, #807
NY, NY 10001
Apply for this Opportunity