Compete

Holy Art Gallery Exhibition: Void – The Hybrid Show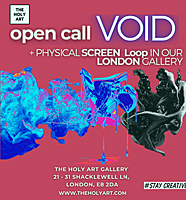 Opportunity Description
International Deadline: August 12, 2022 – The Holy Art Gallery is now accepting submissions for our for our Virtual Exhibition 'VOID'. Each participation in one of our virtual shows your work will be also showing on a dedicated screen in our London based art gallery maximizing exposure in a premium location!
On display 15th – 21st August 2022.
ELIGIBILITY
Artists from all countries are welcome to submit their works for consideration. You are welcome to submit works in any medium. (painting, photography, printmaking, video art, installation, films, sculpting, mixed media, poems, illustration, etc). The theme of the exhibition is OPEN.
Any artist from any background can submit any of their work. There is no charge to submit your application, please feel free to share your work with us.
AWARDS
During this exhibition, we will award 3 x of the artists with prizes:
1st Prize – Participation in a physical exhibition in our gallery
2nd Prize – Solo Virtual Exhibition
3rd Prize – Participation in a virtual exhibition
ENTRY FEE
There is no charge to submit your application. A small fee (£55) is applied per artist once they have been selected for the exhibition.
HOW TO APPLY
Submission is easy via email. Visit us online for details.
SALES
For purchases of works, we direct the buyers to the artists. If buyers wish to purchase straight from our gallery, we will charge 10% on top to cover bank fees.
---
About:
Our art gallery is located in one of the most vibrant and diverse community of artists and creative independents in London. Our modular space consists of three different pods and is able of hosting a wide range of events, exhibitions and pop up stores.
The Holy Art Gallery
The Factory, 21-31
Shacklewell Ln, London, E8 2DA
Apply for this Opportunity