This opportunity listing has expired and may no longer be relevant!
Compete

9th Annual Joshua Tree National Park Art Exposition's Juried Exhibition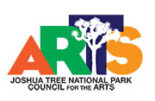 Opportunity Description
U.S. National Deadline: September 15, 2021 – Now accepting artist entries for the 9th Annual Joshua Tree National Park Art Exposition's Juried Exhibition. We are looking for artwork depicting or inspired by the unique natural aspects of Joshua Tree National Park or its cultural history.
National Geographic designated the Mojave Desert as one of the 100 most beautiful places in the world in 2013, and a photograph of a Joshua tree at sunset in Joshua Tree National Park was published as its iconic image. More than 3 million visitors from around the globe are drawn each year to Joshua Tree National Park for its majestic views, twisted geology, bizarre flora, and abundant wildlife. A veritable wonderland of solitude, spectacle, and cultural inspiration, the park has influenced artists over the past 80+ years to make the pilgrimage for independent residencies, brief visits, or even long-term moves to this desert region.
50+ artists/artworks will be selected for the juried exhibition, Nov. 4-28 at the historic 29 Palms Art Gallery, 74055 Cottonwood Dr, Twentynine Palms, CA.
ELIGIBILITY
Open to living artists, age 18 and over. Artwork must be original work created by the artist within the last five (5) years and not previously exhibited in a JTNP Art Expo juried exhibition. Artwork must be for sale and must adhere to theme.
CATEGORIES


Two-Dimensional: Paintings and Works on Paper; including oil, acrylic, watercolor, goauche, mixed media, drawing, etching, printmaking, chalk, charcoal, colored pencil, crayon, graphite, pastels, collage, inks and washes, wax, computer generated art.


Three-Dimensional: Sculpture, assemblage, freestanding or wall hanging pieces, including wood, metal, stone, glass, mosaics, ceramics, fiber, fabric, recycled materials, or mixed media.


Photography: Color or black and white, digital or film.
SIZE LIMITS
2-D wall-hanging art and photography should not exceed 48" width and 60" height. Framed and canvas-wrapped artwork must be ready to hang with professional hanging wire attached (no sawtooth or bracket hangers, triangles, tape, etc.). 3-D Freestanding work should not be more than 50 lbs.
AWARDS
In addition to being accepted for the juried exhibition, artists are eligible for cash awards. All juried artists will be included in the exhibition catalog, which will feature the artist's bio, artwork image, and link to the artist's website. All artists' works will be available for sale during the exhibition at the gallery and online. Awards will be given in three categories (First, Second, Third place in each category, plus a Best of Show).
ENTRY FEE
$35 (USD) entry fee for up to 3 submitted images per artist (three different pieces of art).
Artists will be notified of acceptance into juried show by email, and the list of juried artists will be posted on this website.
SALES
All work must remain on display for the duration of the show. A 35% commission on works sold during the show will be retained by JTNP Council for the Arts and 29 Palms Art Gallery. California sales tax will be collected by the gallery.
DATES


Juried Exhibition: November 4–28, 2021
— 29 Palms Art Gallery


Awards Reception: November 6, 2021
— 29 Palms Art Gallery


Art Expo Weekend: November 6 & 7, 2021
— 29 Palms Art Gallery
— 29 Palms Creative Center & Gallery
— Old Schoolhouse Museum
— Oasis of Mara walks and more.
---
About:
Joshua Tree National Park Council for the Arts was formed in 2013-2014 to help foster the spirit of artistic expression inspired by the park, celebrate the park's majestic landscape and precious wildlife, preserve the park's cultural history, and support the preservation, enhancement, and sustainability of the entire California Deserts Region.
Joshua Tree National Park covers nearly 800,000 acres of Southern California desert and encompasses three distinct ecosystems: the Mojave Desert across the northern part of the park; the Colorado Desert portion of the Sonoran Desert, covering the southern and eastern portions of the park; and the Little San Bernardino Mountains on the western side. The park is known around the world for its spacious vistas, colorful mountains, monolithic rock formations, desert playas, hiking, rock climbing, Native American history, historic mining sites, and vast array of wildlife, including its namesake, the strange and proud icon of the California desert, the Joshua tree.
Apply for this Opportunity