Art Calls

Carroll Gallery & Birke Art Gallery 2023 Season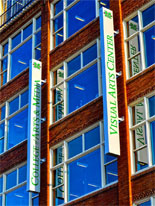 Opportunity Description
U.S. National Deadline: October 1, 2022 – Marshall University's School of Art & Design is seeking submissions from emerging to professional artists for solo and group shows in the Fall Semester of 2023. We have two galleries of varying sizes: The Carroll Gallery and the Birke Art Gallery located in Huntington WV.
All visual arts media are eligible for consideration. At the bottom of this page you will find a link to the floor plan for the Carroll Gallery. Note, as yet, there is no floor plan for the Birke Art Gallery. Exciting changes are afoot for the Birke. A floor plan is forth coming.
Please note that artist(s) are responsible for the cost of delivery and return shipping for their work and their travel expenses. Some gallery installation and promotional expenses are covered by the Marshall University School of Art & Design depending on the needs of the artist(s).
Please submit the following in a single pdf by email to galleries@marshall.edu: brief exhibition proposal, artist's statement, biography, CV and a sample of 10 images representative of those you intend to display and an image list. Also, pleaselet us know that you saw this announcement on "ArtDeadline.Com".
For more information, please contact: Jamie Platt, Gallery Director, galleries@marshall.edu
Marshall University Art Galleries
School of Art & Design
927 Third Avenue
Huntington, WV 25701
Apply for this Opportunity