This opportunity listing has expired and may no longer be relevant!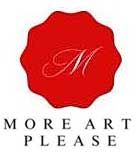 Opportunity Description
International Deadline: Deadline May 15, 2021 – More Art Please Gallery announces an open call for photographers worldwide to enter our exhibition,'Monochromerific'.
There is just something magical about black and white photography, isn't there? The timeless beauty of the photos, the emotion that they bring, the different lighting contrasts that come to life. For the longest time, black and white film photography was the only medium available in photography. While color photography has also been around for a long time (the first color photo was taken in 1861), it was not until the 1960s when color truly started to dominate the world, and it has been that way ever since. Some people might think that black and white photos are antiquated and have no use in the modern world. Sure, shooting in color is great, but a black and white photo can bring a new perspective and aesthetic to your photos that can't be expressed through color.
BENEFITS AND AWARDS
All the selected works will be exposed virtually on gallery site and physically in Brasov, Romania, between May 20 and June 15, 2021, in addition to publication in the 'Monochromerific' 2nd edition album. The best photographer will be nominated as gallery ARTIST, will win 1000 euro and will receive the exhibition album and paper diploma. All the accepted photographers will receive online diplomas.
APPPLY ONLINE – 15,00 EUR Entry Fee
---
About:
MORE ART PLEASE gallery embraces photography in all its forms, and representing a diverse range of contemporary photographers. We organize international exhibitions in order to promote art photographers and photography. From classic vintage photography, photojournalism and fashion to experimental and art photography, we organize contests with different kind of themes. The gallery deals with high quality art works of regarded photographers who are part of international art photographic associations and awarded for their works, or who are already known because of the exposure of their art works.
---
Apply for this Opportunity