Art Calls

PrattMWP Gallery Exhibition Open Call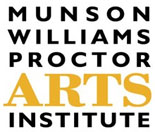 Opportunity Description
International Deadline: January 30, 2023 –The PrattMWP Gallery, located in the renowned art museum, Munson-Williams-Proctor Arts Institute in Utica, NY, awards exhibitions to emerging and mid-career artists working in a range of media. Throughout the year, the selected exhibitions support the PrattMWP College of Art & Design students education and provide cultural enrichment to the surrounding community.
We are currently accepting proposals from artists working in all media.
Anticipated exhibition dates will be held in the months of November 2023, and February 2024. Artists selected will receive a modest stipend, exhibition postcard, and a catered reception. Accommodations will also be provided for up to 2 nights in a nearby hotel.
Selected artists will be expected to offer a gallery talk/and/or presentation to PrattMWP students and community members during the reception. (Reception and artist talks may be moved to a virtual format if campus health/safety conditions change.)
The gallery awards solo, as well as two-person exhibitions. We are open to artist collectives, funding provided for up to two members of the collective.
APPLY ONLINE – No Fee
---
About:
Munson-Williams-Proctor Arts Institute (Munson-Williams) is an internationally prominent fine arts center serving diverse audiences through three program divisions – Museum of Art, School of Art and Design, and Performing Arts. The Institute was founded in 1919 and provides some 600 events annually with more than 180,000 patrons enjoying the many exhibitions, performances, art classes, and family-oriented activities.
The Museum of Art is renowned for its art collection and Phillip Johnson designed building. Munson-Williams' Performing Arts offers wide-ranging, year-round programming of artistically excellent and diverse arts and cinema presentations.
The School of Art and Design offers a large community arts education program in art and the nationally accredited college art program affiliated with Pratt Institute (PrattMWP). PrattMWP is accredited by the National Association of Schools of Art and Design, Middle States Association, and the New York State Education Department. PrattMWP students spend the first two years of their bachelor of fine arts degree program at our campus in Utica, New York before they complete their studies at Pratt's main campus in Brooklyn.
Munson-Williams is located in the heart of New York State, foothills of the Adirondack Mountains and centrally located with easy travel to Cooperstown, Albany, Syracuse and a few hours from Boston, NYC, Lake Placid, and Montreal.
Munson-Williams-Proctor Arts Institute
310 Genesee Street
Utica, New York 13502
(315) 797-0000
Apply for this Opportunity