This opportunity listing has expired and may no longer be relevant!
Compete

2022 NCOA Photography Award Contest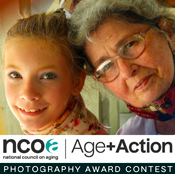 Opportunity Description
U.S. National Deadline: May 16, 2022 – The National Council on Aging (NCOA) is inviting photographers/visual artists to share their stories of caregivers who have been caring for their aging loved ones and older adults in their communities. We provide a platform for artistic expression in order to foster a dialogue and drive innovation in the photographic arts to encourage everyone to care for those who once cared for us, as we believe caregiving for older adults is one of the highest honors.
THEME: "One person caring for another represents life's greatest value." – Jim Rohn
ELIGIBILITY
U.S. based professional and amateur photographers/visual artists (National Call).
AWARDS
One – First Prize: $1000
One – Second Prize: $500
Four – Awards of Merit $250 each
Ten – Honorable Mentions $100 each
Special benefit for the winners of the First Prize, Second Prize, and Merit Awards: NCOA will provide a one-year free promotion and support for artists to build a new professional portfolio website using the FolioLink website service for artists and photographers. If you already have a FolioLink website account, this benefit will allow you to have a second website free of charge for two years.
APPLY ONLINE – No Fee
SALES
Ownership of work remains with the artist. Credits to the artists. No commission on any sale during the exhibitions. 100% profit go to the artists. Artists take full responsibilities for all sales during the exhibitions and in NCOA artist showcase website at ncoaGallery.org
---

About: The National Council on Aging delivers the resources, tools, best practices, and advocacy our nation needs to ensure that every person can age with health and financial security. We were the first national voice for older adults. We helped end mandatory retirement. We advocated to secure Medicare, Medicaid, and the Older Americans Act. Local organizations turned to us for support as they served older adults every day. And we built digital tools that empower older adults with knowledge.
National Council on Aging, Inc.
251 18th Street South, Suite 500
Arlington, VA 22202
Apply for this Opportunity