Art Calls

Postcards from the Edge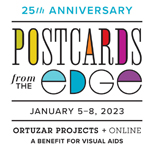 Opportunity Description
International Deadline: November 21, 2022 – Visual AIDS invites you to participate in our 25th Annual Postcards from the Edge benefit, a unique benefit show and sale of original, postcard-size artworks by established and emerging artists. All artwork is exhibited anonymously, and the identity of the artist is revealed only after the work is purchased. It is not only a highlight of the art world each year for artists and collectors, but also provides essential funding to help us carry out our mission and programming.
This year, we are thrilled to be back in person for the party and sale at the beautiful Ortuzar Projects space in Tribeca. As we did for the past two years, we will also provide the artworks for sale online, opening the sale to NATIONAL AND INTERNATIONAL ART COLLECTORS. (We will provide more on how this will work closer to the time of the event.
SUBMISSION PROCESS
The submission process for artworks will be the same as in year's past. You will mail your artwork to the Visual AIDS office by the postmark deadline, along with a form, a self addressed stamped envelope if you would like unsold work returned, and a self addressed stamped postcard if you would like to be told that we received your submission. All submission details and forms are here.
Questions? Email postcards@visualaids.org.
** Please do not call the office number or stop by our office if you have questions.
---
About:
Visual AIDS is the only contemporary arts organization fully committed to HIV prevention and AIDS awareness through producing and presenting visual art projects, while assisting artists living with HIV/AIDS. We are committed to preserving and honoring the work of artists with HIV/AIDS and the artistic contributions of the AIDS movement. We embrace diversity and difference in our staff, leadership, artists and audiences.
VISUAL AIDS
Visual AIDS
526 W. 26th Street, Suite 309
New York, NY 10001
t: 212.627.9855
Apply for this Opportunity